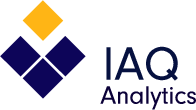 Know your air quality for peace of mind
IAQ Analytics is the leading provider of online reports to remediation and property professionals who use modern metering equipment to rapidly test indoor air for presence of airborne particles, and the relative levels of these. Clients input the air quality data that they have collected on-the-job using a handheld meter, and then the Web App references that data against a cross section of published standards and guidelines. Results of indoor air quality (IAQ) testing are analyzed and reviewed by a scientist to provide you with a high-quality report, instantly. Other particulate matter IAQ reporting services require days to weeks of lab time, or postal and courier time. The IAQ Analytics product and service is yours, in the hand now, and facilitates, promotes, and documents your business. Just input information about your equipment, sampling duration, number of rooms, and the particle counts in each room, to rapidly receive an indoor air quality analysis.
Clients access these services
Air quality analysis based on meter readings
Option for before-and-after treatment comparison
Analysis of airborne particles, or ATP surface cleanliness
Standards-based classification
Analysis of samples, typically 0.3µm to 10µm
Submit a Sample
Ready to submit data for analysis? Air quality levels may be analyzed at a single point in time, or compared before and after remediation has taken place.
Example reports can be be requested from your trainer.
My Reports
Save reports from your browser by choosing "print" and "pdf". You can view any of the reports that you've generated with IAQ Analytics, at any time.